I want to cancel the direct deposit paycheck in Intuit payroll. How to do it ?
Please provide me step by step solutions in brief.
Best answer
Let me help you to cancel the direct deposit paycheck in Intuit Payroll. Direct deposit is one of the useful features of QuickBooks. This feature helps you to focus on growing your business and less time for worrying about things like payment dates.
To check the status of payroll:
You must have to check your direct deposit status.
Now, open your QuickBooks and click on the Employees tab.
Now, select the my payroll service from the options and then click on billing information.
To sign in, enter your ID and password.
Now, open the options from direct deposit.
Now, you have to choose the option view payroll activity and type your direct deposit.
Let's get start. You need to do some following simple steps. Then you will find that it will stop the paycheck to employee's bank from posting it.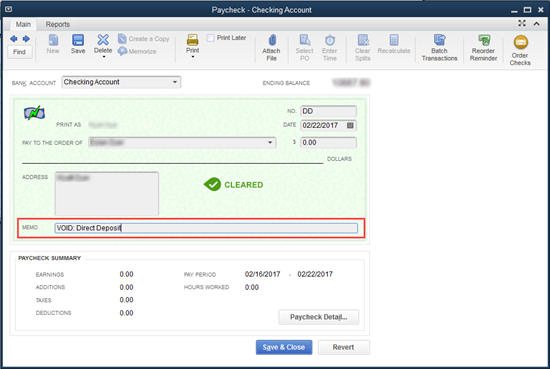 Let's start to do Step-by-Step:
On the QuickBooks menu bar,go to Employees< Edit Paychecks.
On the EditPaychecksscreen, change both the Show paychecks through/from dates to the date of the chec
Press Tabkey of keyboard.
On the Edit/Void Paychecks screen,select the paycheck to be voided,
Clickon  Void.
enter "yes,"in the pop-up box and then click on Void.
Review the terms and conditions, choose the checkboxsaying you agree if you agree.
Repeat steps 5 to8 for each paycheck needing to be voided.
Close the Edit/Void Paycheckswindow after cancellation.
select the Employeeson the menu bar.
Select Send Payroll Datafrom the Employees Menu.
Click on Sendthen you will note that there are no direct deposit checks to send.
Review the Bank Register used to process employee payrolland verify the canceled paycheck(s).
Before doing all these steps, you need to consider some things. To get to know these caution, visit the link: How to cancel the direct deposit paycheck in Intuit payroll.